Couple new shows added (May 20 and 21) before we head out to Milwaukee Metal Fest 
Thrash Metal Frontrunners WARBRINGER Reveal "Unraveling" Music Video + Kick Off European Tour Today! 
Drummer Carlos Cruz states:
"Road Warriors! We're excited to release this new music video for 'Unraveling', capturing the chaos of all of you Heavy Metal maniacs going OFF at a WARBRINGER show! Thank you to Juan and Roberto for once again joining the madness to collaborate on another killer video, and a major thanks to all of YOU for thrashing with us!
The anarchy continues overseas on our 'Ravaging Europe 2023' tour with Evil Invaders, Schizophrenia and Mason! Check the dates, spread the word and we'll see you in the circle pit!"
WARBRINGER 2023 European Dates w/ Evil Invaders, Schizophrenia and Mason:
24/03/2023 BE Aalst - Oilsjt Omploft
25/03/2023 DE Essen - Turock
26/03/2023 FR Colmar - Le Grillen
27/03/2023 BE Namur - Le Belvédère
28/03/2023 DE Kassel - Goldgrube
29/03/2023 DE Mannheim - 7er Club
30/03/2023 DE Leipzig - Hellraiser
31/03/2023 DE Hamburg - BHF Pauli
01/04/2023 DK Copenhagen- BETA
02/04/2023 DE Berlin - Cassiopeia
03/04/2023 PL Warsaw - Hydrozagadka
04/04/2023 PL Krakow - Kamienna12
05/04/2023 DE Munich - Backstage Halle
06/04/2023 CZ Prague - Modra Vopice
07/04/2023 HU Budapest - Barba Negra
08/04/2023 CH Sursee - Kulturwerk 118
09/04/2023 AT Dornbirn - Schlachthaus
10/04/2023 AT Vienna - Viper Room
11/04/2023 CH Martigny - Cave Du Manoir
13/04/2023 FR Lyon - Rock n Eat
14/04/2023 FR Pau - L'Ampli
15/04/2023 ES Barcelona - La Nau
16/04/2023 ES Madrid - Nazca
17/04/2023 ES Mos Pontreveda - Sala Rebullón
18/04/2023 ES Granada - Sala El Tren
19/04/2023 ES Zaragoza - Sala Lo Intento
20/04/2023 FR Nantes - Le Ferrailleur
21/04/2023 FR Paris - Backstage By The Mill
22/04/2023 NL Arnhem - Willemeen
23/04/2023 NL Helmond - Cacaofabriek
24/04/2023 DE Hannover - Cafe Glocksee
UK Dates w/ Hellripper as support only:
26/04/23 - Birmingham, UK - Asylum
27/04/23 - Manchester, UK - The Bread Shed
28/04/23 - Glasgow, UK - Classic Grand*
29/04/23 - London, UK - Boston Music Room
30/04/2023 NL Rotterdam - Baroeg (with Evil Invaders)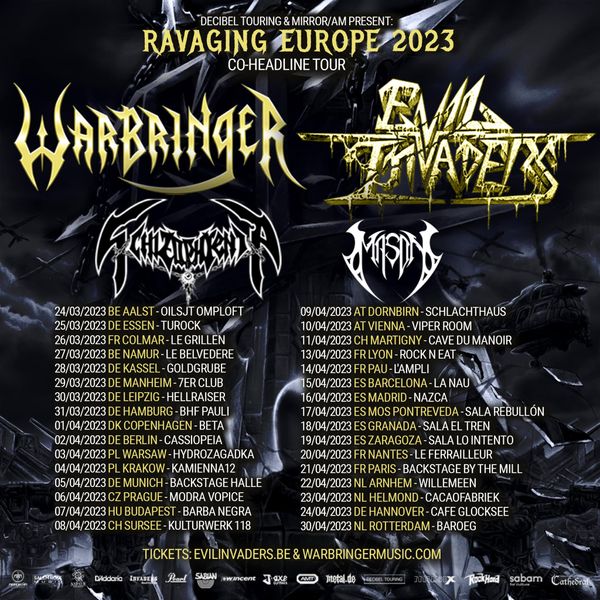 WARBRINGER to Release 'Total War – The Complete Cassette Box Set'
WARBRINGER in cooperation with M-Theory Audio is releasing Total War – The Complete Cassette Box Set February 10th. Collecting all 6 of the new era metal band's albums with bonus tracks on each from the same recording sessions. Additionally, the box includes the band's sought-after demo recordings, 2005's Born Of The Ruins and 2006's One By One The Wicked Fall. Housed in a camo matchbox style box with Warbringer patch, sticker and pin and limited to 250 copies. Available now https://m-theoryaudio.com/product/869617.
Spanning over 15 years of music one can hear and appreciate the journey begun by teenagers inspired by their influences to an international recording and touring juggernaut trailblazing new paths and inspiring a next generation. Officially licensed from past label Century Media and current label Napalm Records Total War… introduces each of their albums onto the classic cassette format each with its own unique colored shell. And each album collecting bonus tracks from the same sessions including b-sides and cover versions totaling 12 additional songs. 
WARBRINGER ANNOUNCE NORTH AMERICAN TOUR WITH DESTRUCTION!
WARBRINGER - "REMAIN VIOLENT"
WARBRINGER ANNOUNCE WEST COAST TOUR
NEW MUSIC VIDEO "SILHOUETTES"
WARBRINGER ANNOUNCE EUROPEAN TOUR